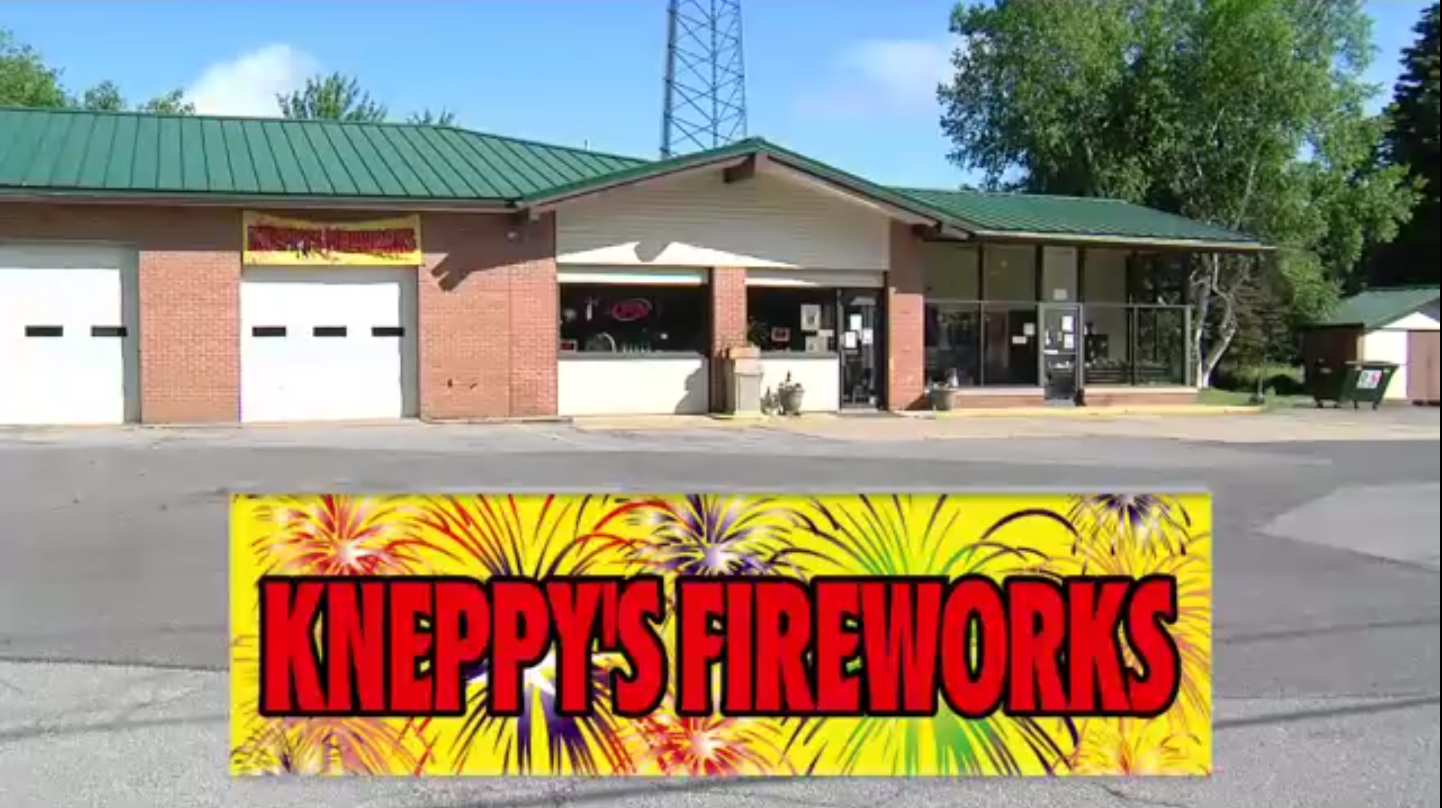 WELCOME TO KNEPPY'S FIREWORKS INC. We are a small fireworks store located in the heart of central PA with a huge variety of fireworks types to meet all your summer festivities, birthdays, gender reveals, and other holidays that you celebrate. If it has a fuse we probably have it. We have sparklers, smoke items, strobes, crackles, toys/novelties, fountains, sky lanterns, sky fliers, parachute items, rockets & rocket varities, firecrackers, roman candles, 200g cakes, 500g cakes and aerial shells up to 1.75″ diameter/7″ length. Wholesale cases are available upon request. Wholesale Catalog is available on the menu above. Call us or contact us and we'll do our best to accomidate your every fireworks needs. The more you buy the more you save. Thank you for choosing us to make your celebrations super ultra special and memorable.
WE ARE NOW CLOSED FOR THE SEASON! If you need anything in a pinch please give us a call and we'll open up for you. We also will open up for special occassions through out the winter months. Stay tuned here and to our facebook page for announcements.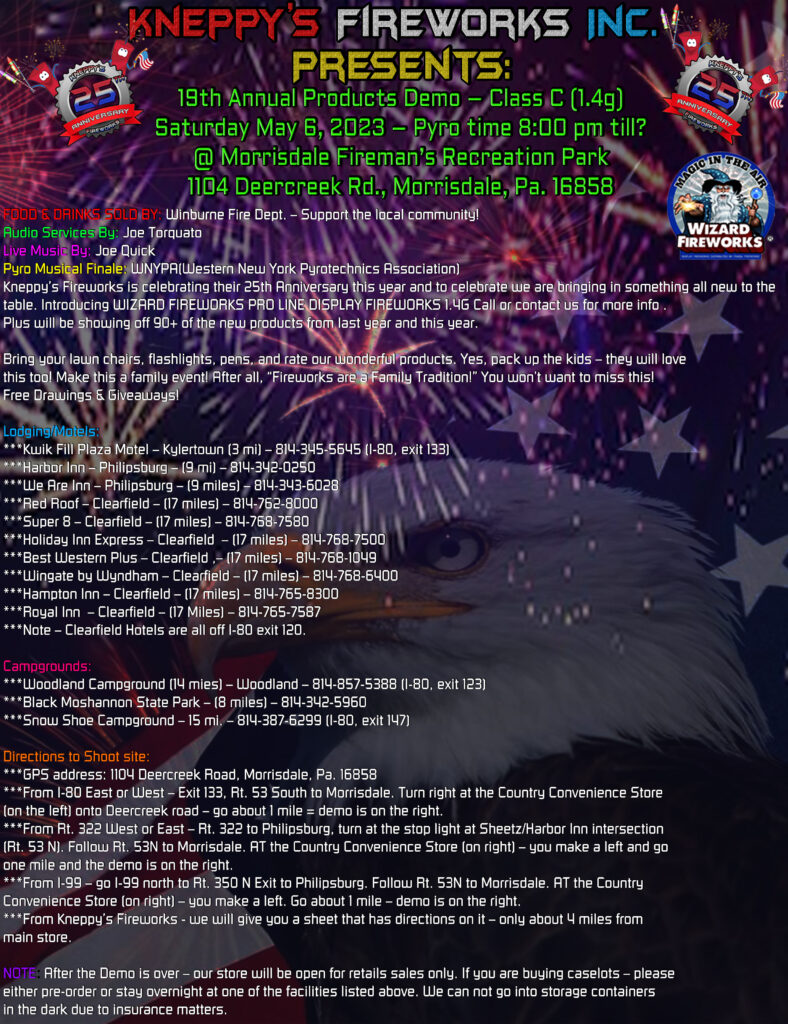 -03/10/2023 – EVEN MORE STUFF HAS ARRIVED – RACCOON CONTAINER HAS ARRIVED. More items will be posted soon on this load that came in.
03/09/2023 – WE HAVE EVEN MORE NEW & OLD ITEMS IN STOCK WINDA & SOME OF OUR PROLINE WIZARD FIREWORKS HAVE NOW ARRIVED. CALL US FOR MORE INFORMATION ON PROLINE ITEMS.
– A couple of price reductions to save you money too!
–FEATURED ITEM VIDEOS:
09/14/2022 – Just a friendly reminder to keep an eye on our social media pages for deals and giveaways through out the fall & winter months here at our Kylertown location. Like/Follow/Comment & Share!!!
LINKS TO THEM ARE AT THE TOP OF THE PAGE!

Knepps-demo-sheet-2022

A HUGE THANK YOU FROM ALL OF US AT KNEPPY'S FIREWORKS for tuning into our 18th annual broadcast over Facebook Live. We hope you enjoyed watching it. We all were so glad you all were able to make it to this.
-Huge thank you to the following to help making this demo possible:
-Western NY Pyrotechnics Association – Pyro Musical
-Joe Torquato – Audio/Music/DJ
-Wisor Photography, Dubois, PA – YouTube Demo Recording
-Morrisdale Volunteer Fireworks Company
-Winburne Fire Company – Food Vending/Refreshments
-Warehouse workers and anyone else who participated in helping with setup of all this.
We cannot thank you folks enough! Our family would like to also thank all of those fireworks companies, individuals, and others who either donated product or assisted in setting up and tearing down the beautiful Pyro Memorial show in honor of my sweetie Pie And founder of Kneppy's Fireworks, HENRY KNEPP. I am sure Henry was looking down from Heaven above and smiling a big ol' Grin. It probably brought tears to his eyes – hence the rains for 2 days in a row.
The companies we would like acknowledge are:
American Fireworks – the Sorgi Family and Sabrina Nickels
Kellner Fireworks – the Kellner Family
Fire Art Corp – Al Giordano
Whitenight Fireworks = Brian Whitenight family
Individuals –
Howard Fry
Tim Kohler and family
Joe Torquato
And others but sorry – forgot names
Special thanks to our Pyro Club – PyroTechnic Artists, Inc.
Great NEWS!!!!
House Bill 542 has been signed by Governor Tom Wolf, it is now legal for PA residents to buy from us and shoot off Consumer Fireworks at any time of the day or night on any day of the year. This is everything in our store that we sell. Bottle rockets, firecrackers, cakes, parachutes etc. Please note that all safety laws rules still apply for folks in metropolitan areas and also towns.
ONLY GOOD FOR KYLERTOWN MAIN LOCATION!!!
If you buy $500(Before Taxes) either in one lump sum or at different times – get your VIP card punched each time you spend $100(Before Taxes) and you get $100 FREE AFTER your $500 purchases! You must spend $500(Before Taxes) to qualify for the $100 free fireworks promotion on our V.I.P. Program. YES – other discounts DO apply! Sign up today by emailing or calling. Best deal going in PA! Well worth the longer drive!
Receive 20% off retail prices – all year long! If you belong to a PYRO Club (even pyro forums like Pyro Talk, PyroFan) you will receive a great 20% off retail pricing. Plus also use the VIP card – details above. Must have a verifiable membership card or similar.